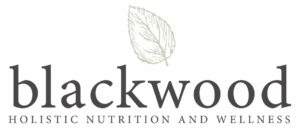 The Hormone Harmony Solution
Connect body, mind and soul while embracing the power of your hormones
This hormone-based coaching experience is for YOU if you want to
feel ENERGIZED
create a powerful metabolism that allows you to release weight and feel comfortable in your body
regulate your menstrual cycle and live PMS free
feel CONFIDENT
✨balance your mood✨
have glowing and clear skin
improve your libido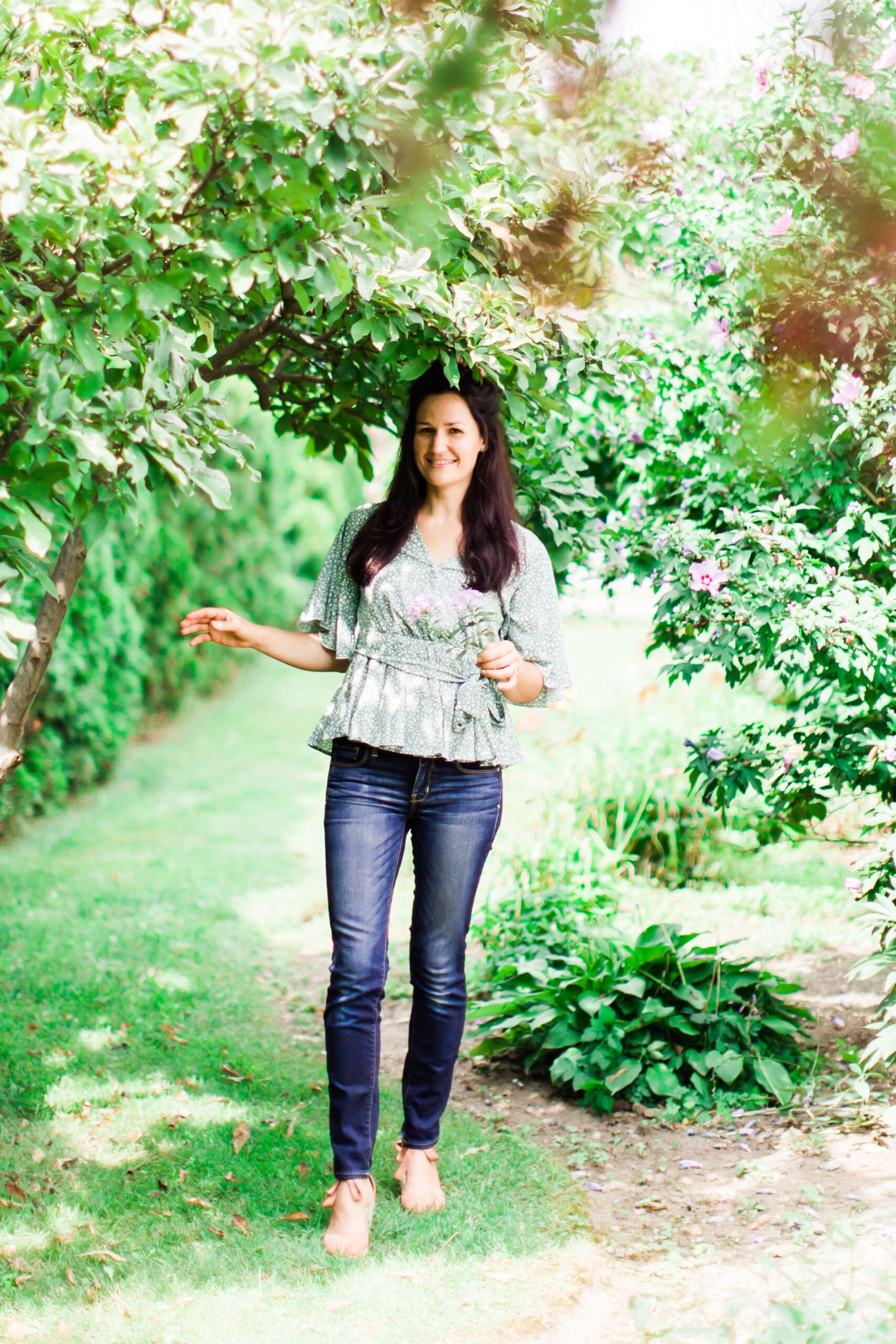 In my world, it's all about fueling your body in a way that feels aligned. I teach you a sustainable 'way of living' without measuring, counting, and other food calculus so you can get back to loving your life and body.
Say buh-bye to feeling 'blah' and mediocre and YAY to...
✨feeling empowered, confident, comfortable, sexy, and fab
✨better skin, energy, sleep & digestion
✨ quick fixes & band-aid solutions aka diets of all kinds
✨ feeling amazing in your favourite clothes without having to give up all the yummy foods (it's 80/20 babes)
✨learning how to reprogram your mind, so you can be successful in all areas of your life
Does this sound familiar?
You're a do-it-all woman struggling with:
Exhaustion - your fatigue is real, and you're struggling to juggle all the things, and keeping up with your business/career
Stagnant Weight/Weight Gain - which is slowing you down in life 
Confidence - you want to hide under baggy clothes, don't feel like the powerhouse woman you desire to be at work, and don't want your partner to see you naked
Libido - it's non-existant, gone
Mood - you're up and down, some days your feel alright, other days you feel 'blah'
Brain fog - can't 'think straight', not feeling productive, often finding yourself 'paralyzed' making decisions
Time to address what's holding most women back: YOUR HORMONES
Just imagine...
✨Massive amounts of energy all day where you don't feel exhausted as soon as 2 pm hits
✨Saying YES to doing the things you want to do with your kids, your spouse and your girlfriends because you FEEL supercharged
✨Being able to have a stable mood and say goodbye to irritability, crankiness, and anxiety - feeling even-keeled and ready to go.
✨Yoy feel confident in your jeans, and feel excited about hitting up the beach or dinner party and loving your body.
✨The incredible impact you could have on the people around you - radiating positive vibes to those around you because you look and feel amazing
✨No more stressing about food, what to eat or not to eat in fear of feeling 'worse'
In order to create the lifestyle you want, you need to get comfortable with change
You need to stop repeating the same patterns. It also means to stop trying to do this thing on your own and telling yourself you 'just have to try harder'.
You need high touch support using a poven step-by-step protocol specifically designed for YOU, not a one size fits all approach.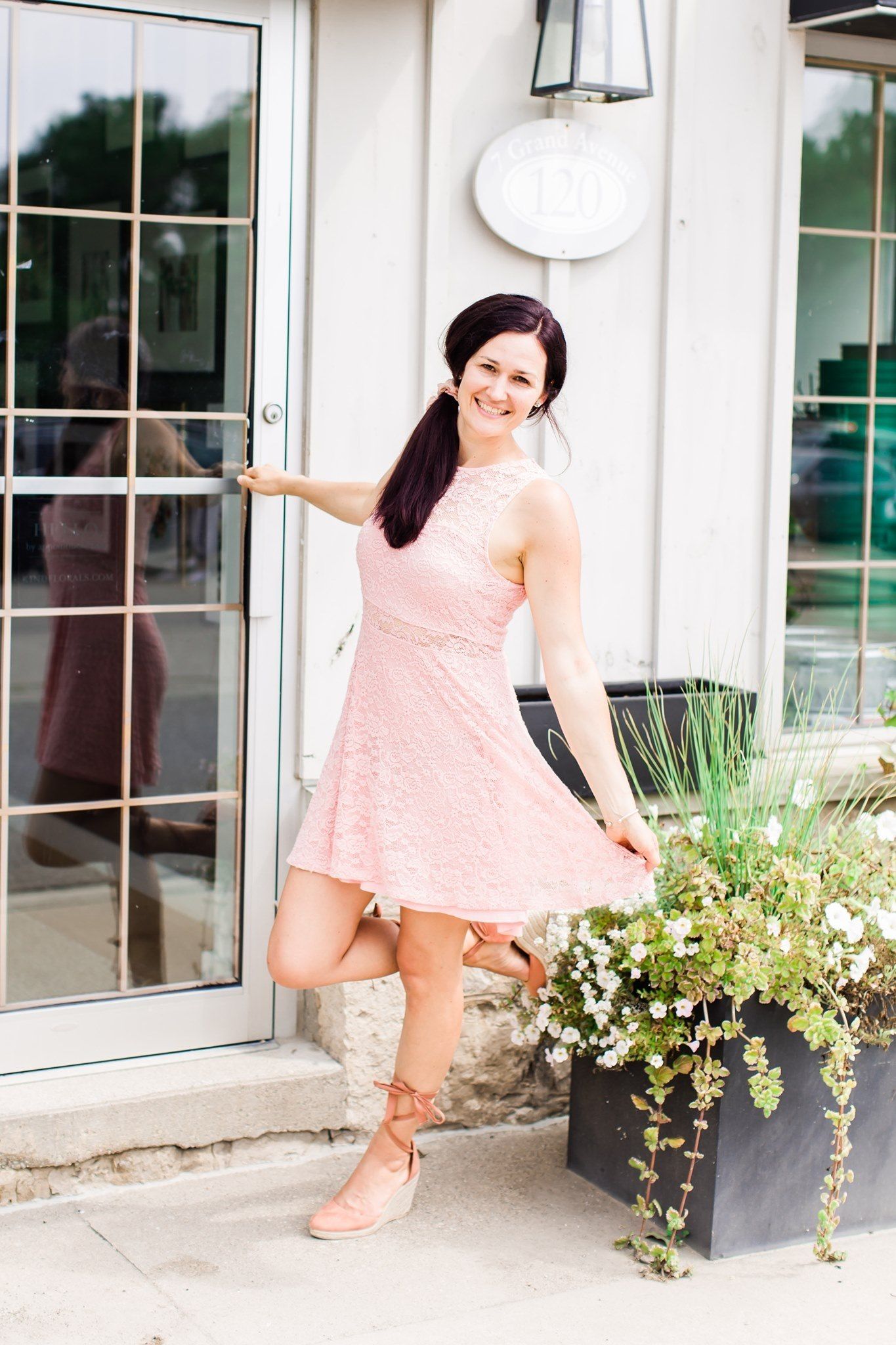 Hi, I'm Jasmin!
Your nutrition and hormone obsessed, keep it simple and fun, making 'healthy' work for you and your high-powered life, coach.
My mission is to help you feel absolutely amazing in your body so you can be the confident woman you desire to be.
Having been in the health space for over 15 years, I am going to venture to guess that you are REALLY trying to figure out how to juggle your high-demand lifestyle and this 'healthy' living thing so you can LOVE your body ... but knowing where to start and how to put all the puzzle pieces together so you can create balance within to help you feel confident in all areas of your life... is a bit of a roller coaster. 
You are in the right place. This is what I do, and I am really good at it.
You are about to get massive clarity on your next steps in your health journey, simplify 'healthy' living, know exactly what to be eating and how to create harmony within, and show up feeling supercharged so you can do life with much more ease, in a body you adore.
It's time to unleash what's been living under the surface of low confidence and not fueling your body and stepping into your highest potential as you awaken your inner goddess through transforming your body, mind and soul so you can feel energized, confident and in flow.
How we're going to increase your natural energy and help you show up confidently in all areas of your life, leading a vibrant life

In The Hormone Harmony Solution, I walk you through the exact step-by-step method you need in order to balance your hormones and connect to your body, mind and soul, to create flow in your life, without ever having to stress about food or calories again.
Here is what's inside The Hormone Harmony Solution
I take you through the 3 stepping stones to success.
1. Anti-inflammatory & Energizing Phase
Here, we're going to stabilize your blood sugar & apply nutrition stacking by changing your refined + inflammatory foods-based diet to nutrient-dense whole foods one (80/20)
✨prime your hormones
✨ignite your metabolism
✨ open up detox pathways...
✨ and have you feeling more energetic and confident
We also begin to unlock the power of the mind, diving into creating the life you desire to lead, in a body you adore that can give you everything.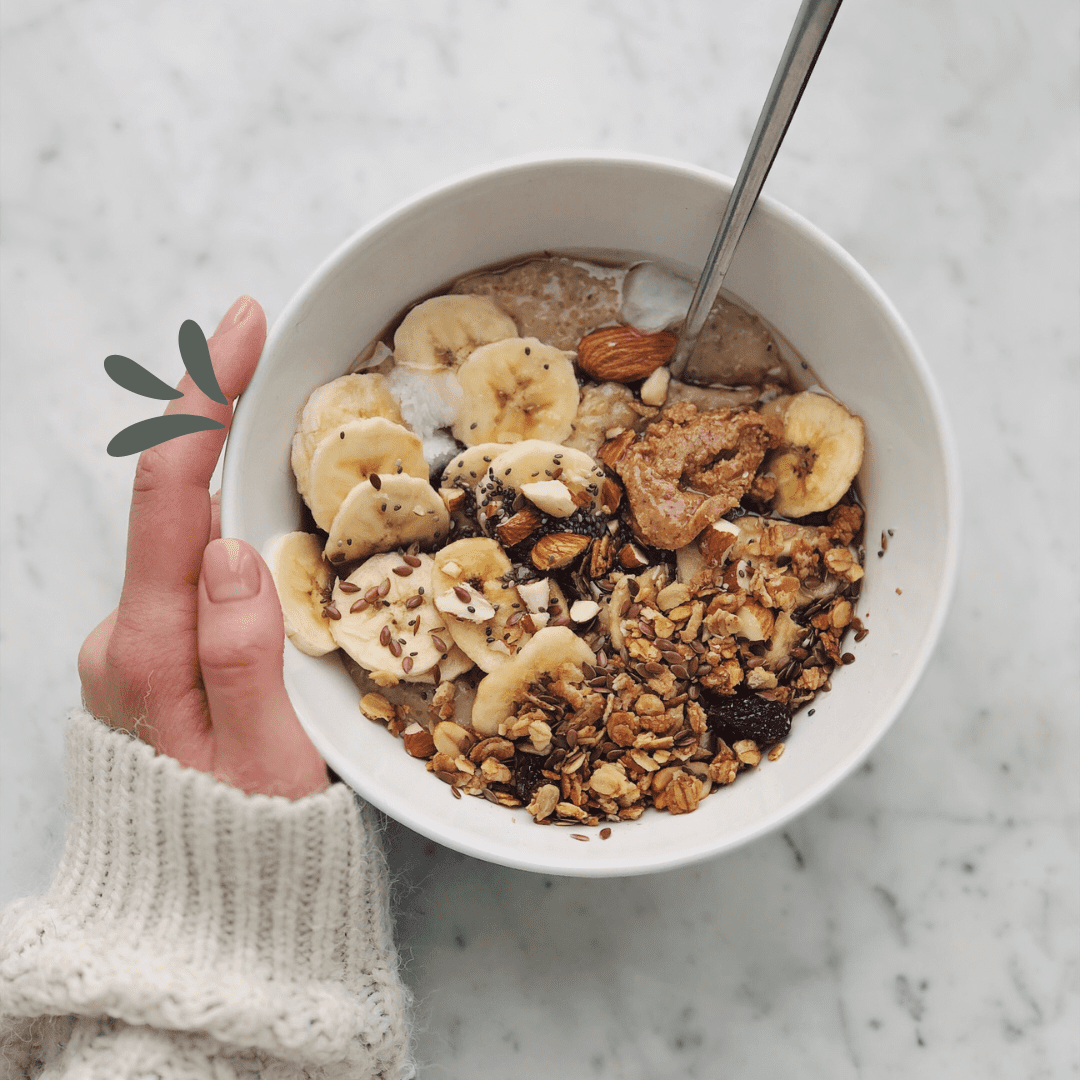 2. Hormone Alignment & Gut Restoration Phase
Moving onto phase two, you're going to learn how to balance out your metabolic hormones & energy-fueling hormones by
✨ flushing out excess toxins
✨otimizing gut health (ie correcting leaky gut, yeast overgrowth and bacteria)
✨digestive support through specific foods
✨aligning with your female cycle for natural energy + nutrient repletion
Here, you discover the law of attraction and have it work in your favour, as you become the master creator of your life.
3. Adrenal Regulation Phase
In the last phase, we break the stress habit by balancing cortisol levels for ultimate hormonal alignment, where we
✨refuel stress-depleting nutrients through foods
✨integrating simple and efficient strategies that work for YOUR life
✨fill in nutrient gaps with adaptogens and other supplements
✨create space to find calm in your high-powered lifestyle
Throughout the program, we incorporate powerful techniques to align body, mind and soul to create flow in your life so you can show up feeling confident in all areas of life.
Here's how we can work together
In the group experience you can expect:
60-minute initial Individual 1:1 Coaching Session for personalized customization (including hormone health + nutrient deficiency assessment
Bi-weekly Group Coaching Call with Jasmin - Coaching calls are designed to ask questions, get clarification, walk through challenges and get the support you need to take powerful action
Step-by-Step protocol to optimize your hormones (with over 40 lessons waiting for you!) to help you empower yourself with the tools and knowledge you need to feel your absolute best
Weekly accountability within the group to review nutrition to check in with your progress & goals. This lets you know exactly what to focus on to help you move towards your goals in the safest and healthiest way possible.
Wellness Vault filled with 200+ hormone-loving recipes & resources
Access to membership site with updates
Personalized diet, lifestyle + supplement recommendations based on initial assessment
Nervous system regulation tools to help you find your calm, learning how to lead a soulful life
Your members-only Facebook group with like minded-women to post your questions & get extra support!
Please fill out the application below in detail as you're scheduling your FREE Hormone Clarity Call to help you get on a path to 'energizer bunny' type of energy and feeling confident in your body (investment found on the application).
During this call we will go over your health history, your goals and your vision to help you achieve a body and create a life you love.
I can't wait to chat with you!
More Client Wins From The Hormone Harmony Solution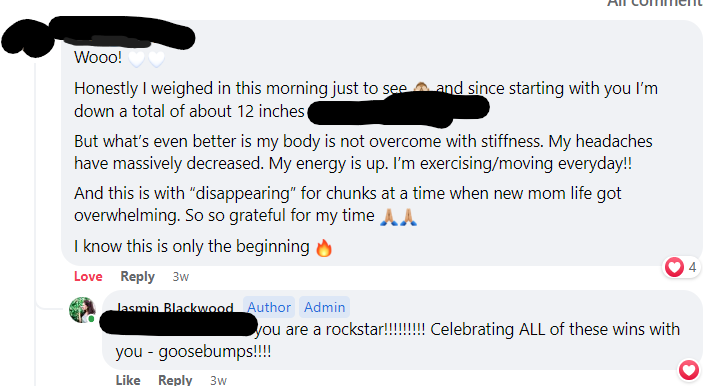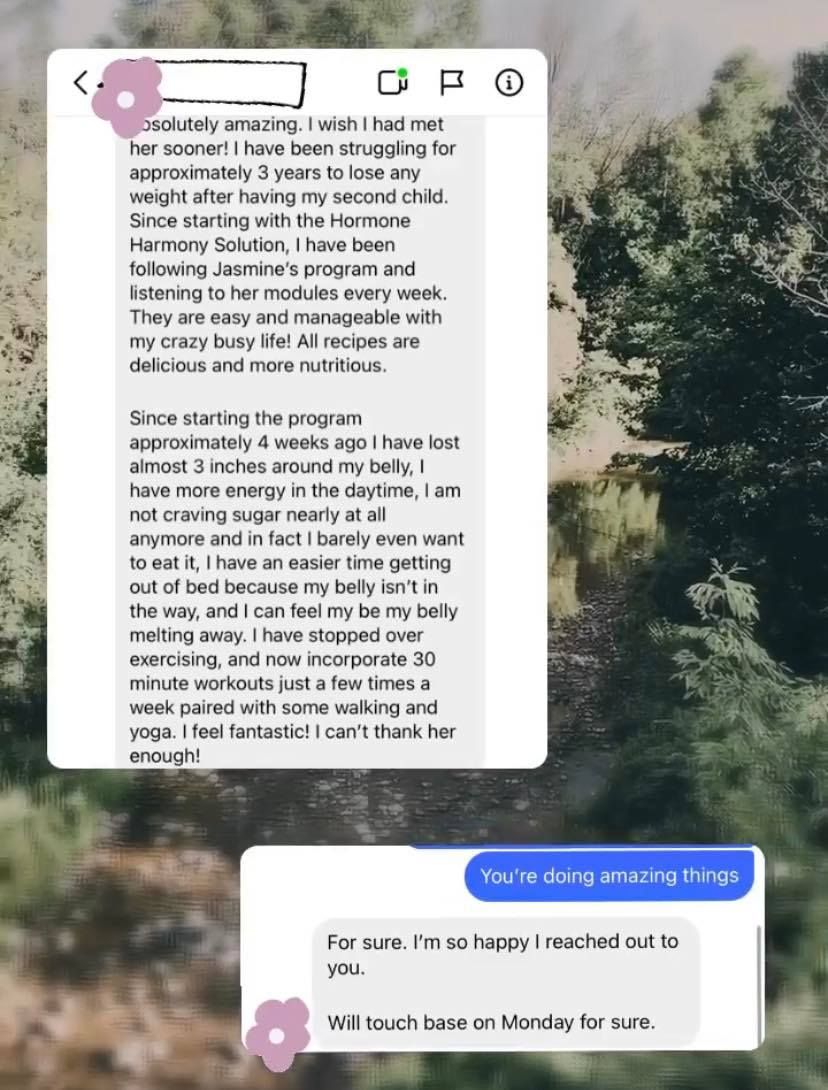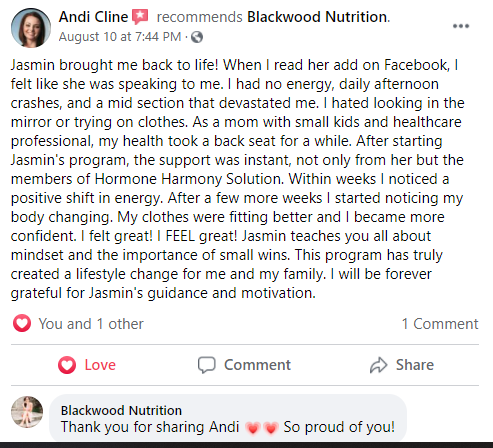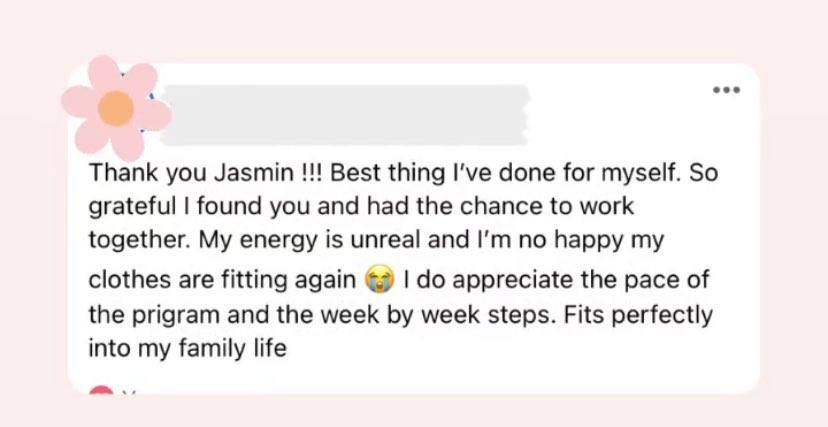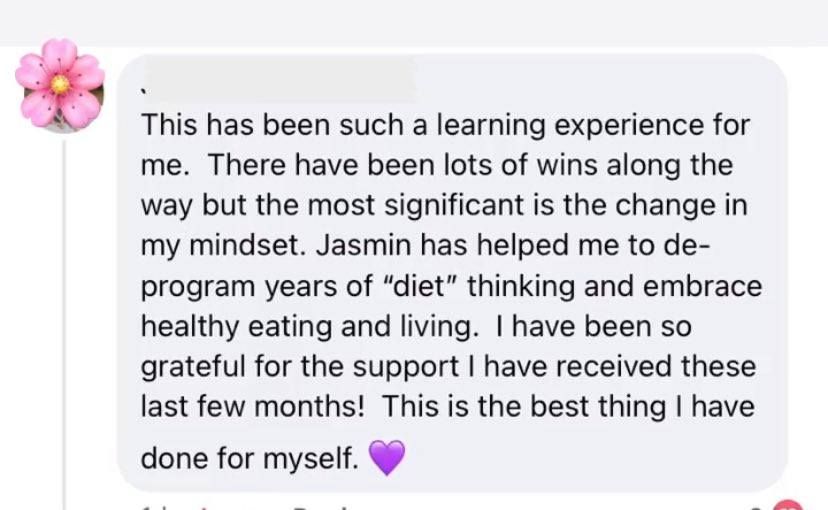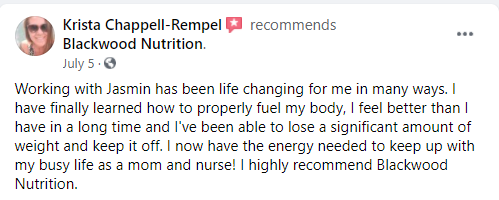 How can I tell if this is the right fit for me?
This coaching container was designed specifically for busy, high-powered women who want a simple strategy to follow that helps them through the 3 phases of balancing hormones and leading a soulful life while receiving high-class coaching support. If you've been struggling with confidence, low energy and feeling disconnected and overwhelmed then this is the container for you. Let's book a Hormone Clarity call to make sure you are an awesome fit for each other. You can book this at the bottom of the page.
Is there a guarantee this will work?
I love this question - I want you to take a deep breath and really let this land - YOU are the guarantee. You are going to get out of this program what you put into it. It is up to you to show up, do the work, and hold yourself accountable so you can get the results that you are after. It is also up to you to reach out for extra support and guidance from your coach if you desire more help. So, since the program is solely based on your efforts and a variety of things that are out of our control, we follow a zero refund policy.
Will this work if I am vegan or vegetarian? 
Absolutely. All meals & snack recommendations and guides can be adapted to this. Also, everything inside The Hormone Harmony Solution is based on an ani-inflammatory way of living.
What happens if I am on vacation or miss group coaching calls for any other reason?
You won't at all be behind if you are out of town for a little while, or if you miss coaching calls for any other reason. All calls will be recorded and available for replay. You'll also have access to all materials ongoing.
If you're still reading this and you're hearing this voice inside your head telling you it's time for change, time to try something you've never done before...
Then this is your sign. I don't believe in coincidences. I believe in divine timing. The answer you've been searching for is right in front of you.
My question to you is - ARE YOU COMMITTED? Committed to
-- step into this next version YOU, who feels confident, at ease... full of powerful nutrition knowledge to create a massive shift in your life?
-- learn how to believe in yourself, and that you can live in a body that you love, in a body that can give you everything?
-- step outside this 'boxed in diet world', where you no longer feel restricted?
-- learn how to connect with your spiritual side [newly, or more deeply] to help guide you as you create confidence in all areas of your life?
If you're ready to change your life...
Step 1: Fill out your application
Step 2: Schedule your Hormone Clarity Call
Step 3: We get on the call where and dive into your health history, goals, and vision to make sure you're the right fit for the program.